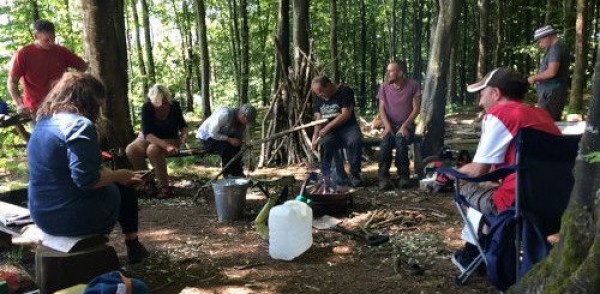 Coed Lleol (Small Woods Wales) projects connect people and nature the woodland way, improving health and wellbeing of people in Wales. Read about our projects below.
Use the map to find projects running in your area.
Click here to book yourself or refer someone else on to a session.
The Small Woods Association supports woodland owners across the UK, for more information visit the Small Woods website.
Actif Woods Wales
With project groups all over Wales, Actif Woods Wales offers wide range of woodland health and wellbeing activities – from bush craft to woodland walks, from conservation to campfire cooking, and foraging to mindfulness,
Trywydd Iach | Outdoor Health
Coed Lleol (Small Woods Wales) and ecodyfi have teamed up to help the Dyfi Valley community get active outdoors in the Dyfi Biosphere through the Outdoor Health project.

Green Health and Access West Wales
Calon Meddwl Corff (Heart Mind Body)
Heart, Mind, Body Support is a community led project supported by Coed Lleol (Small Woods Wales) and EcoDyfi, in liaison with Trywdd Iach / Outdoor Health. In this time of crisis, it aims to help, reach out and improve wellbeing.
Lost Peatlands Project
A project focused on almost 6700ha of upland landscape between Neath Port Talbot and Rhondda Cynon Taf, providing new opportunities for people to discover the wealth of natural and cultural heritage that the area has to offer. Aiming to restore areas of lost peatland, creating habitat for rare and declining species such as water voles and skylarks!