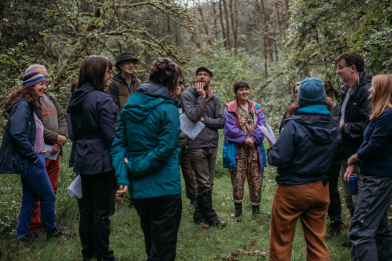 Coed Lleol (Small Woods Wales) is the name for the Small Woods Association in Wales. We help to improve the health and wellbeing of people across Wales though woodland and nature based activities.
Read about our projects below or use the map to find projects running in your area.
You can also use our online form to register yourself or refer someone else for our activities.
Feasibility Study - Machynlleth Bro Ddyfi Community Hospital and Wellbeing Centre - Powys
A feasibility study project that asks - 'How can the new community hospital and wellbeing centre in Machynlleth act as a springboard for outdoor activities for the health and wellbeing of staff, patients and the local community, alongside the centre's clinical care?". 
Iechyd Gwyrdd a Mynediad Gorllewin Cymru
Mae Iechyd Gwyrdd a Mynediad Gorllewin Cymru yn brosiect yn Sir Benfro, Ceredigion a Sir Gaerfyrddin, sy'n archwilio cyfleoedd arloesol ar gyfer iechyd gwyrdd, yn cefnogi mentrau presennol ac yn edrych am ffyrdd o wella ardaloedd coetir a mynediad ar gyfer pobl o bob gallu.
Lost Peatlands Project
A project focused on almost 6700ha of upland landscape between Neath Port Talbot and Rhondda Cynon Taf, providing new opportunities for people to discover the wealth of natural and cultural heritage that the area has to offer. Aiming to restore areas of lost peatland, creating habitat for rare and declining species such as water voles and skylarks!
Social Prescribing the Woodland Way: Children and Young People Woodland Wellbeing Project – Swansea and NPT
Woodland wellbeing for children and young people in Swansea and NPT.
Third Sector Fund – NPT
Funded through CVS, this is a small project supporting adults across NPT to engage in activities based in woodland settings to support health and wellbeing improvements.
Breaking Barriers – Swansea
This project is funded through the Heritage Lottery Fund to support adults and families from multicultural backgrounds across Swansea.